Hundreds of UC Merced students are about to learn just how far they can stretch a drop of water.
"UC Merced Water Battle 2011" begins Saturday, pitting students in the nine Valley Terrace residence halls against each other in a monthlong water conservation competition. The hall that saves the most water per person through Oct. 31 wins a pizza party, prizes and $1,000 to donate to local nonprofit organization.
About 565 students live in the Valley Terraces.
"Our challenge is to get students motivated and create awareness," said Martin Figueroa, a junior biology major and team manager for the Alliance to Save Energy's Green Campus Program at UC Merced.
Green Campus is a student group that is planning and organizing the contest, along with UC Merced sustainability leaders, the student chapter of Engineers for a Sustainable World and Los Gatos-based startup company Aquacue Inc.
Aquacue produces water management solutions and technologies providing real-time water monitoring, usage analysis, leak detection and alerts services. Organizers are leaning on that technology — which includes the Aqucacue Barnacle, a flow monitoring and data-transmitting device attached to each hall's water meter — as the foundation of the contest.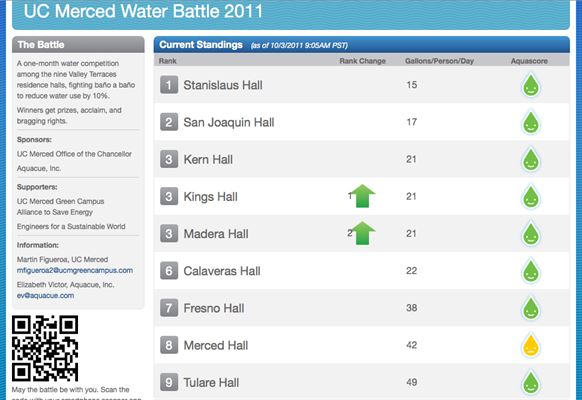 Students will be able to check real-time water usage and hall rankings on the website www.aquacue.net/ucmerced or on their smartphones via www.aquacue.net/ucmerced/mobile. A Water Battle Facebook page will keep participants engaged and motivated throughout the competition. Organizers already have been using Facebook to trade ideas and focus planning efforts.
Billed as "an epic battle of Valley Terraces," the contest is a natural fit for a campus renowned for its commitment to sustainability — social, economic and environmental systems that preserve the ability of future generations to meet their needs.
Shahram Javey, founder and CEO of Aquacue, said UC Merced is an appealing partner because of its "green" profile and because "water is a major challenge for California."
Jim Genes, special assistant to the vice chancellor of administration and co-chair of the Chancellor's Advisory Committee on Sustainability, said UC Merced is using the Aquacue technology campus-wide as a tool to monitor and reduce water consumption. Having the entire campus "wired for water" also creates research opportunities, he added. And lecturer John Haner is mentoring some students who are doing writing for the project, and his professional writing class also is assisting with marketing materials.
Both Genes and Figueroa believe the contest will create new awareness about water use. Aquacue and UC Merced are donating the $1,000 prize money for the competition.
Organizers are starting to roll out educational materials and dispense water-saving advice, such as turning off the shower while shampooing, turning off the water when brushing your teeth and flushing only when necessary.
Figueroa said he doesn't think students deliberately waste water, just that "they're not thinking about the impact of a 10-minute shower." He said students should be receptive to the contest because they already are interested in green practices.
"A lot of students come to UC Merced because of the sustainability efforts we create on campus," he said.