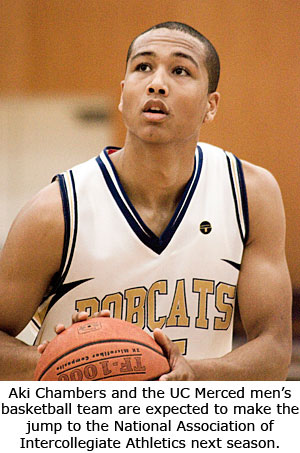 Junior Aki Chambers has been there for every stage of men's basketball at UC Merced. He played intramural basketball as a freshman, then started the men's club team with fellow student Daniel Castillo.
This fall, he'll likely become part of the first UC Merced basketball team to compete at the intercollegiate level in the National Association of Intercollegiate Athletics.
UC Merced's application to the NAIA is currently under review and is expected to be approved at the association's national convention in mid-April. If it does, UC Merced will begin competing in the California Pacific Conference in men's basketball, women's volleyball and men's and women's cross country in the 2011-12 academic year.
Chambers recently answered a few questions for the UC Merced Office of Communications.
Q: Tell us about yourself and why you chose UC Merced.
A: I'm from the Bay Area, more specifically San Anselmo in Marin County. I am currently a junior and studying mechanical engineering. I came to UC Merced because I liked the idea of a small-school setting and knew it would be a great chance to meet new people in a great learning environment. I feel that coming to UC Merced has given me many opportunities with school, sports and my social life.
Q: How did you come to be involved with basketball at UC Merced?
A: It started out with playing intramural basketball. That was fine, but I wanted more than that. So Daniel (Castillo) and I talked to David Noble in the Recreation and Athletics Department to see what we had to do to start the basketball club here at UC Merced. It was a lot of work, but the outcome was definitely worth it. Having Daniel wanting the same goal as me made things very easy.
Q: What are your favorite sports-related memories from your time at UC Merced?
A: One of my favorite sports memories was during the intramural A-League championships my freshman year. I was a part of an all-freshman team, and we were playing an all-senior team. We were pretty evenly matched. It was a big game, because there wasn't a club basketball team at the time. The stands were packed. Even though we lost, it was one of those experiences that I will always remember. Another memory was when we had our first Midnight Madness game. Lots of student showed up to that game to watch us play against each other. It was like an all-star game — we were playing and just having fun, though there was some competitiveness between each other. It was a very exciting game.
Q: What do you think about the proposed move to the NAIA?
A: I think that it is a great idea and I am happy that men's basketball is going to be one of the sports that will move to NAIA along with some other sports. It's crazy how fast our club is progressing. Two years ago, we were just barely starting this club sport, and now we might have a chance to join a league. It is really something I have been waiting for, and I'm sure Daniel has been too. It is nice to know that after we graduate and the program keeps progressing, Daniel and I will know where it all started.
Q: In your opinion, why are sports important to a college campus?
A: I think sports are important to a college campus because they bring entertainment and a chance for students to support their friends who are playing the game. I think that sports play a big role on college campuses. College is not all about academics — it's about the extracurricular activities, too. Being an athlete and playing sports in college is great, because it's a way to increase your skill and continue to enjoy the game that you love to play.