http://www.youtube.com/watch?v=y8wzG0QWw80A group of students working with Professor Benoit Dayrat learned first-hand this summer about the field research opportunities available to undergraduates at UC Merced.
Dayrat and his students traveled to Malaysia and Borneo in Southeast Asia, where they explored mangrove forests looking for undiscovered species of snails and slugs. The work is important, Dayrat said, because of how little we know about the biodiversity of life that surrounds us.
"About 1.5 million species have been described so far by scientists, but we estimate there are about 10 million to 100 million species living on Earth," Dayrat said. "We don't really know anything about the biodiversity that surrounds us.
"This research could have huge implications on management. If you don't know what species live in a particular habitat, you may not know whether or not you have to protect these habitats."
Mangroves are forests of trees that have adapted to seawater, with roots and trunks that are underwater when the tide is high and exposed in low tide. The students would wait for low tide, then brave the mosquitoes — and a few snakes — to search the mud for snails and slugs.
It might not sound like the most exotic work, but it was an invaluable experience for Dayrat's students.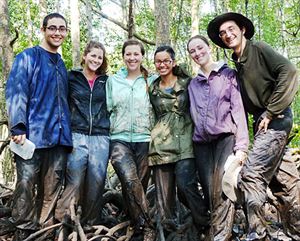 "Going to Malaysia for four or five weeks to explore the mangrove forests and try to find snails and slugs in the mud can really be a life-changing experience," Dayrat said. "We need to expose the students to all kinds of possible careers."
Ashley Valle Arevalo, a biology major and a first-generation college student from Los Banos, said she initially planned on attending medical school but is now considering a career in research — in large part because of the trip with Dayrat.
"I liked it so much; it was amazing," Arevalo said. "I got to meet a lot of students where we worked. It was really interesting."
Shahrooz Bastami, an undergraduate student from Gilroy, said UC Merced is a good place for students looking for early opportunities for research and a strong connection with the faculty.
"I thought I was going to be stuck in a lab cleaning pipettes for four years, and that would be my research," Bastami said. "I was glad I made the decision to come to UC Merced. It's easier to find research opportunities, easier to make a relationship with your professors. It's a good opportunity for kids to come here and do research."