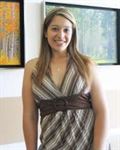 Dulcemaria Anaya once vowed to represent her UC Merced class as the student speaker at commencement.
Anaya, a world history major from Merced, was an incoming freshman when she made the promise to her mother and herself. Over the past four years, she overcame shyness, built confidence and became more comfortable speaking in public.
"I wanted to make that promise a reality," Anaya said.
Anaya's dream will come true at commencement May 14, when she'll deliver a speech representing the Class of 2011. She was selected by a committee of faculty, students and staff.
For Anaya, 21, that speech is just one of several dreams involving UC Merced.
She wasn't even in school when the idea of a campus took root in the 1990s. Parents Federico and Maria Anaya dreamt their oldest child would attend the newest UC — a dream she grew to share.
"I was going to UC Merced," Anaya said. "There was no other school, no other choice. I had a goal of being a UC Merced student without the campus even being here yet."
She was excited to be accepted in 2007 but also felt nervous and anxious. As a first-generation student, Anaya didn't have anyone in her family to tell her what to expect.
She learned that professors were open and available to discuss assignments. Work as an orientation leader and lead teaching assistant for a freshman success course gave her familiarity with the campus and resources such as the Career Services Center.
In building her confidence, Anaya found a passion for helping other students. For example, she teaches students in the freshman success class (USTU-10) that they are in control of their schedules.
"We all have the same 24 hours in the day," she said. "Life is all about choices — you choose to be who you want to be in life."
Anaya reached out to high school students after participating last year in the Latino Leadership Initiative at Harvard University. She helped tutor some Merced High School students working to pass the English portion of the California exit exam.
Next, she will attend UCLA this fall to pursue a master of education degree in student affairs. Anaya's new dream is to land a job at UC Merced, where she can continue helping students.
She'll know some future Bobcats. Her sister, Jennifer, starts at UC Merced this fall. Siblings Federico, Joseph and Luis will pursue the same path.
Anaya couldn't be happier about those dreams.
"I truly feel that if I would have gone to another institution, I would not have had the experiences I had at UC Merced," she said. "The university really offered me the opportunity to explore my interests and decide what I truly wanted to be."
Anaya said she has many fond memories of the past four years but thinks the best is yet to come.
"I think the highlight of my experience at UC Merced will be giving that speech at commencement," she said.
Senior Public Information Representative
Office: (209) 228-4203
Mobile: (209) 628-8263