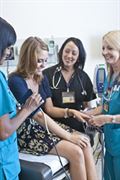 College is an adjustment. Over the span of a summer, high school seniors go from living under the watchful eye of parents to being full-fledged adults. Students have to manage their own money, time, living arrangements, health care and more.
But while many adults are intimidated by navigating health care options, it's an even bigger challenge to students. Thanks to UC Merced's Student Health Services, students have as much support there as they do in the classroom. And the biggest supporter they have is Liz Wiggins, the H. Rajender Reddy Health Center's registered nurse.
"Our students come from a variety of backgrounds, which means they have varied exposure to the medical community," Wiggins said. "And it's normal to fear the unknown." 
The center offers on-campus primary care services, health education and laboratory testing for little to no out-of-pocket expense to most enrolled students. Unfortunately, many students don't take advantage of the services provided because they simply don't know what is available.
Wiggins refers to the center's offerings as "total care." She personally handles triage of patient concerns in person and over the phone, and says she couldn't do it without the support of health center staff, all of whom work to treat students as if they were close relatives.
Unsure if a sore throat is related to seasonal allergies or a symptom of something more serious? Instead of Googling your symptoms, just walk to the health center or call Wiggins. The center is tucked within the Joseph Edward Gallo Recreation and Wellness Center.
"Everyone goes online and assumes the worst (about their symptoms)," Wiggins said. "Talking to me over the phone can set a student's mind at ease and let them know what to expect if they need to be seen."
Wiggins has discovered that the most dangerous malady affecting students nowadays is lack of information and fear.
"The amount of anxiety among students is shocking," she said, adding that stress can create or worsen health issues.
"Especially at the beginning of school, we get a lot of stomach complaints from students," Wiggins said. "Every little thing they worry about detracts from their ability to focus on school. A quick call or visit can allay their fears and put students on the right track to academically succeed."
Regardless of insurance plan, students can be examined, receive vaccines and have minor laboratory testing at the health center. Though there is no pharmacy on campus, doctors will write needed prescriptions to fill at a local pharmacy, some of which even deliver to campus.
Students can seek care at the health center either by appointment or as a walk-in patient. The center is open from 8 a.m. to 5 p.m. Monday through Friday and closed on campus holidays.
To make an appointment at the health center, call 209-228-2273, or for medical advice, call the nurse line at 209-228-4192. A secure and confidential way to communicate non-urgent healthcare needs is through secure messaging on the health center website. For medical emergencies when the health center is closed, call 9-1-1 or visit the nearest urgent care center or the Mercy Medical Center  emergency room.
Senior Public Information Representative
Office: (209) 228-4203
Mobile: (209) 628-8263