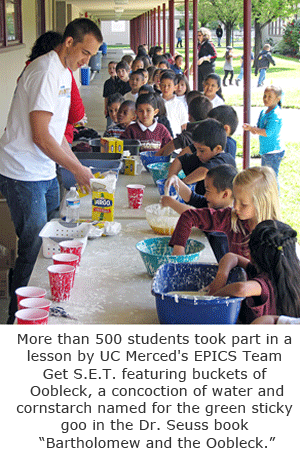 Mix up a few buckets of goo, and what do you have?
A messy and fun science lesson for local schoolchildren — courtesy of UC Merced students who help the community through an innovative engineering service learning program.
The UC Merced students who offer the gooey "Oobleck" lesson are part of Team Get S.E.T. (Science, Engineering and Technology), one of several groups working with nonprofit organizations through the Engineering Projects in Community Service (EPICS) academic program.
"The service learning program at UC Merced connects student partners with the local and regional organizations that need our enthusiasm and engineering expertise," said E. Daniel Hirleman, dean of the School of Engineering. "And our students benefit as much as the clients.
They have a chance to learn a lot about education, engineering and how their chosen profession is one that helps people."
UC Merced students gain hands-on experience as they develop solutions to real-world problems. Get S.E.T., a team of about 20 students, develops supplementary K-12 science curricula in collaboration with the Merced County Office of Education.
The service learning program has a long track record at UC Merced. In 2005, the Max and Verda Foster family of Foster Farms pledged $1.2 million to fund hands-on educational experiences in the School of Engineering. The gift funded the Foster Family Center for Engineering Service Learning, a national EPICS site.
And in 2007, PG&E committed $1 million over five years to form a partnership with UC Merced to support student retention, student recruitment and service learning. In the first year of that partnership, UC Merced established the PG&E Engineering Service Learning Laboratory, a physical home base for students working on service learning projects with nonprofit clients like A Woman's Place of Merced County and the California State Mining and Mineral Museum in Mariposa.
Get S.E.T. team members say their project is especially important as schools deal with tight budgets while also working to meet the demands of state educational standards.
"Time is so constricted in the classroom," said Océane Stanek, an engineering student and Get S.E.T. team leader who came to UC Merced from the Bay Area.
The team coordinates with teachers to create demonstrations and activities that help students grasp concepts taught in the classroom. For example, students at a recent Rivera Middle School Science Night learned about energy through rubber band cars and thermodynamics by making ice cream.
The Get S.E.T. team also rolled out Oobleck on a grand scale with a demonstration at Fremont Charter School. More than 500 students took part in the lesson featuring buckets of Oobleck, a concoction of water and cornstarch named for the green sticky goo in the Dr. Seuss book "Bartholomew and the Oobleck."
Christopher Viney, an engineering professor and longtime faculty adviser for Get S.E.T., said Oobleck and other activities are not only fun but "a chance for kids to see that science is relevant in everyday life."
Client satisfaction is a key measure of success.
"We get asked back," Viney said. "If we couldn't deliver, we wouldn't be asked back."
Steven Gomes, superintendent at the Merced County Office of Education, said he's talked to many teachers who see the activities as a valuable asset.
"Teachers are high on the program," he said. The UC Merced presentations "get students excited about science."
Stanek, who plans to become an elementary school teacher, said she's benefited in many ways from her five semesters in service learning. She said she's learned valuable lessons about leadership, time management, public speaking and teamwork.
"Those are important skills that I'll be able to use in the real world," Stanek said.