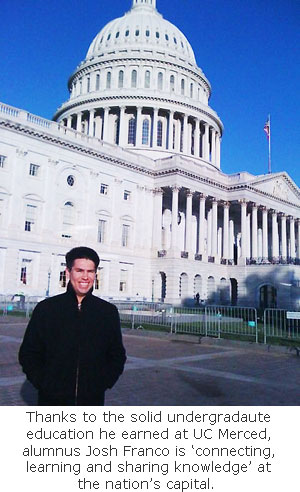 Josh Franco ('07) is exactly where he planned to be. Every step leading to his current job as a senior legislative assistant for U.S. Congressman John Garamendi has been carefully taken by Franco with his gifts for connecting with others and for absorbing and sharing information in mind. And one of those steps included his choice of UC Merced for his undergraduate education.
Franco, who is from Bellflower in Southern California, specifically wanted to get involved with establishing UC Merced's student government, and that's just what he did, serving as the first president of the Associated Students of UC Merced. He majored in social, behavioral and cognitive sciences with an emphasis in public policy.
"I wanted a multidisciplinary approach to better understand policy, politics, government and governance," he explained.
UC Merced met his expectations. He said the campus and the local and regional community prepared him by challenging his assumptions about people, places and ideas, encouraging collaboration, cooperation and creativity, and fostering an insatiable appetite for information and knowledge.
He became deeply entwined in campus life — forming important connections with the founding faculty, administrators, and most of all, his fellow founding students.
"I love all my fellow Bobcats," he said.
Franco left life as a Bobcat behind when he graduated in 2007. He volunteered for the Obama presidential campaign, then interned for Garamendi, who was still California's lieutenant governor at the time. Eventually, Franco was hired on as a policy analyst. From there, he worked on Garamendi's congressional campaign and was ultimately invited to serve on his Washington D.C. team.
Franco is responsible for Garamendi's Committee on Transportation and Infrastructure assignment, as well as monitoring issues in agriculture, budget, education, environment, homeland security, immigration, labor, natural resources and trade.
Franco responds to e-mails, meets with district, regional, state and national interests and organizations, and attends committee hearings and issue briefings He also makes recommendations for moving forward policy and legislative ideas.
What he enjoys most, though, is the people work and the constant learning behind the policy — activities that aren't so different from the way he functioned at UC Merced.
"I love talking with constituents and local stakeholders, people who are experts, learning about the inner-workings of Congress and the federal government. The access to knowledge is unmatched," he said. "If there was a world's university, the U.S. House of Representatives would be it."
In the future, Franco looks forward to continuing what he does best — connecting, learning and sharing knowledge.
"I look forward to teaching public policy — maybe as a guest lecturer at my former high school and community college, or after graduate school as a faculty at a public university," Franco said. "I want to help the emerging generation of leaders to better understand our government and governance at all levels and lead with confidence, compassion and vigor."