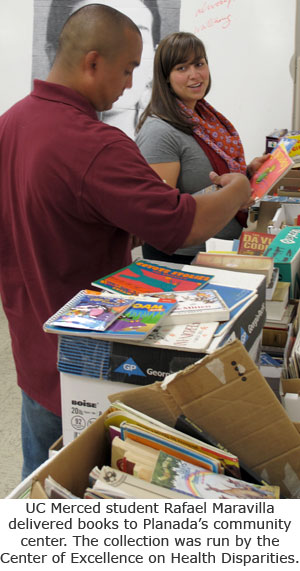 UC Merced is celebrating its
Hispanic Serving Institution(HSI) designation and recognizing the contributions of its Latino community as part of National HSI Week.
The week, which falls during Hispanic Heritage Month, goes from Sept. 19 through Sept. 25. The week serves as a time to recognize the importance of Hispanic-Serving Institutions, which help make higher education possible for Hispanic students, many of who are low-income and the first in their family to go to college.
UC Merced in April became one of two University of California campuses to earn the HSI designation from the U.S. Department of Education. Faculty members have already begun applying for grants open to HSIs.
The designation certifies an enrollment of at least 25 percent Hispanic students and is critical for obtaining grants and other funding for a variety of purposes, such as student support services, faculty development, laboratory equipment and renovation of instructional facilities. Roughly a third of UC Merced undergraduate students are Hispanic.
President Barack Obama's budget request for fiscal year 2011-12 calls for $123 million for HSI-designated schools. The U.S. departments of Education, Agriculture, and Housing and Urban Development award grants to HSIs.
In the past year, UC Merced has had many noteworthy accomplishments by Latino students, staff and faculty.
Two members of Congress plan to reintroduce resolutions designating the week of Sept. 19 as National Hispanic-Serving Institutions Week and will ask the president to issue a proclamation to observe HSI week nationally.