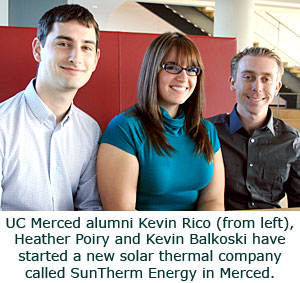 Three UC Merced alumni — two from Southern California and one from Ohio — are working toward starting a business and making a difference right here in the San Joaquin Valley.
Heather Poiry, Kevin Balkoski and Kevin Rico have started a new company called SunTherm Energy, with the goal of providing solar thermal technology and service to companies in the Valley and beyond.
The trio met at UC Merced while studying under Professor Roland Winston, a founding faculty member and a pioneer in non-imaging optics, a science concerned with collecting, concentrating, transporting and distributing light energy.
Poiry, a Toledo, Ohio, native and a graduate student in mechanical engineering, said the decision to come to UC Merced and then to stay in the area to start a company came from a sense of opportunity.
"What drew us to UC Merced was the small setting and the opportunity to start something new," Poiry said. "Each one of us has experienced a personal journey here in Merced and has grown to love not only the university, but the community as well. When we chose to develop our business and began looking at our potential customers, we realized that our prime market was here in the Valley."
SunTherm will focus on designing and creating industrial heating systems that use solar energy rather than natural gas — a more cost-effective solution that also reduces air pollution and greenhouse gas emissions.
It's only natural that the company has sprouted from UC Merced, which is establishing itself as a leader in solar technology and sustainability while also making a significant economic impact on the Valley in both research and job creation. And the company's makeup is a testament to the interdisciplinary nature of studies at UC Merced, where students from different fields work collaboratively in an entrepreneurial, hands-on educational environment.
Poiry and Balkoski, a Menifee native with a bachelor's degree in environmental engineering who's pursuing a master's in mechanical engineering, met while studying together under Winston. Rico, from Azusa, changed his major from engineering to management and used his studies in both to foster the collaboration that has led to this startup.
"Our team's interdisciplinary knowledge and experience was critical to the formation of our company," Rico said. "We needed knowledge that ranged from engineering to business, and we were able to develop such a diverse knowledge base because of the support, guidance and opportunities we've received at UC Merced."
SunTherm Energy was incorporated in April and has an office in Merced. The company is currently seeking startup funding from individuals and companies in the Valley, looking for potential clients, partnerships and connections to help develop the business, and developing a system for their initial client.
In the meantime, Poiry has some advice for other students who might aspire to follow in her team's footsteps.
"UC Merced is still a new institution," she said. "If something that you want doesn't exist, make it. If you want to learn something outside of your field, find a class and take it. There may be opportunities that exist that you never thought of before."