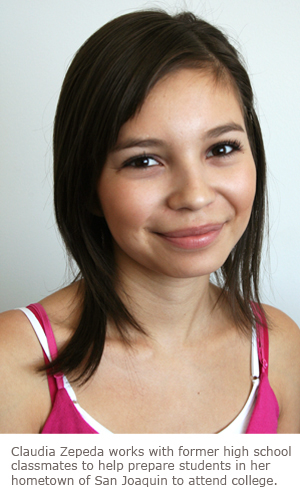 Claudia Zepeda is giving back to the community she grew up in the best way she knows how - mentoring students about what it takes to get accepted into college.
Zepeda, a junior psychology major and the first in her family to attend college, grew up in the small town of San Joaquin in Fresno County and attended Tranquility High School. She remembers hearing about the new UC being built in the Central Valley. She visited the campus when it was still piles of dirt and cows and instantly knew it was the best option for her.
"I liked the fact that I could enjoy the freedom of going away to college while remaining close to home," Zepeda said. "Many students want to go as far away as possible from home, and within a few months they end up returning home and quitting school. I knew by attending UC Merced, that wouldn't happen to me."
Zepeda's enthusiasm for UC Merced has led her to become an advocate for Westside Initiative for Leaders (WIL), a program that encourages impoverished students in Fresno County's Westside area to pursue leadership roles at all levels and assists them in their preparation for higher education. Zepeda worked with a high school friend attending Harvard and another attending UCLA, putting together a plan to mentor students from their community about college education.
In August, with the support of WIL, the three former classmates hosted a barbecue and workshops to give important information - about
financial aid,
SATs, A-G Subject Requirementsand writing
personal statements- to eighth through twelfth graders and their parents.
UC Merced participatedin the events, along with community colleges, technical schools and job programs.
The event was a huge success, and Zepeda hopes to continue mentoring students through the WIL program. She is proud that 10 students from Tranquility High are attending UC Merced. Through her efforts, that number will continue to grow. "I want to continue to give back to the community where I grew up. I feel we are often overlooked because we are a small community," she said. "I hope to inspire students to strive to get a quality education and come back and support others."