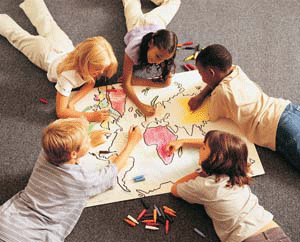 Children ask a lot of questions. In fact, according to Professor Michelle Chouinard's previous graduate research, children ask an average of three questions every two minutes. Now, as a first-time professor at UC Merced, her focus is to find out what role children's questions play in their cognitive development.
"The unifying objective of my research is to understand the role that adult-child conversation plays in children's cognitive development," Chouinard said.
Since joining the UC Merced faculty in July 2005, she has continued her research into how children learn language (specifically how children and adults communicate); how children learn naiumlve biology (for example, knowing the differences between living and nonliving things); and children's ability to ask questions and gather information.
Chouinard's interest in the communication between adults and children came as a reaction to claims she heard when she was younger. "All of the claims out there argued that parents feedback to their children has no real effect on their cognitive learning," Chouinard says. "I felt the role of parents was missing. I wanted to demonstrate that parents input to a child are potentially useful and beneficial."
Looking forward to getting her students involved in hands-on studies within the next few months, Chouinard is developing relationships with local preschools.
"First we have to become part of the classroom in order to make the children feel comfortable," she said. "We spend a few months getting to know the children before we start our studies with them."
She also looks forward to the campus Early Care & Education Center playing an extensive role in her research once it is built.
A Packard Foundation grant recently awarded to Dean Kenji Hakuta, Professor Belinda Reyes, and Chouinard, will be used in part by Chouinard to find out what bilingual programs currently exist and the needs of preschoolers in the Central Valley.
While waiting to be able to start her studies in area preschools, Chouinard has been busy in her own classroom. Last semester, she taught Developmental Psychology. "It was a challenging semester, but teaching and the student side have been wonderful," says Chouinard. "I watched my students really step up and grow overnight."