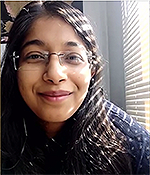 Cognitive and Information Sciences graduate student Ketika Garg is the recipient of the 2021-2022 UC Guru Gobind Singh Fellowship. Each UC campus is invited to nominate a graduate student from a specific area of India and Pakistan to compete in a systemwide competition. The fellowship provides $30,000 in support.
"I am very grateful and honored to have received this award that was established in the name of a great spiritual leader to help out Indian students who are not eligible to apply for most of the funding opportunities available to U.S. citizens," Garg said. "I feel very lucky to have been eligible for this fellowship and I hope that other international students can get similar opportunities in the future."
The fourth-year Ph.D. student joined UC Merced in Fall 2017 after completing a master's in biology in India. ​Her research interests include anthropology, evolutionary biology and human cognition, and she is studying human foraging patterns and their cognitive basis.