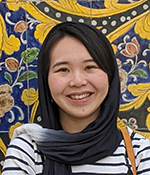 Interdisciplinary Humanities Ph.D. student Amanda Leong received the Medieval Academy of America's 2022 Belle da Costa Green Award.
Belle da Costa Greene was a prominent art historian and the first manuscript librarian of the Pierpont Morgan collection. She was also the first known person of color and second woman to be elected a Fellow of the Medieval Academy of America (1939).
Belle da Costa Green's legacy highlights the professional difficulties faced by medievalists of color, the personal sacrifices they make to belong to the field, and their extraordinary contributions to medieval studies. The award is granted annually to a medievalist of color for research and travel whose project speaks to the legacy of Belle da Costa Greene and whose research can contribute to the field of medieval studies.
As a recipient of the Belle Da Costa Greene 2022 Award Leong will have access to conduct in-person archival research in the Bodleian Library in Oxford and the British Library in London.
"I look forward to expanding my research more with the hope that more support can be given to Ph.D. students like myself from the Interdisciplinary Humanities program given the nature of the research work we are doing and the acknowledgment we are receiving from external, professional organizations, Leong said. "I am grateful and excited for this opportunity!"